''Law & More helpt en begeleidt u en uw partner bij alle stappen van de aanvraagprocedure voor een verblijfsvergunning.''
Wilt u graag samen met uw partner in Nederland wonen? Dan heeft u een verblijfsvergunning nodig. Om in aanmerking te komen voor een verblijfsvergunning zullen u en uw partner aan meerdere voorwaarden moeten voldoen. Er gelden een aantal algemene en een aantal specifieke voorwaarden.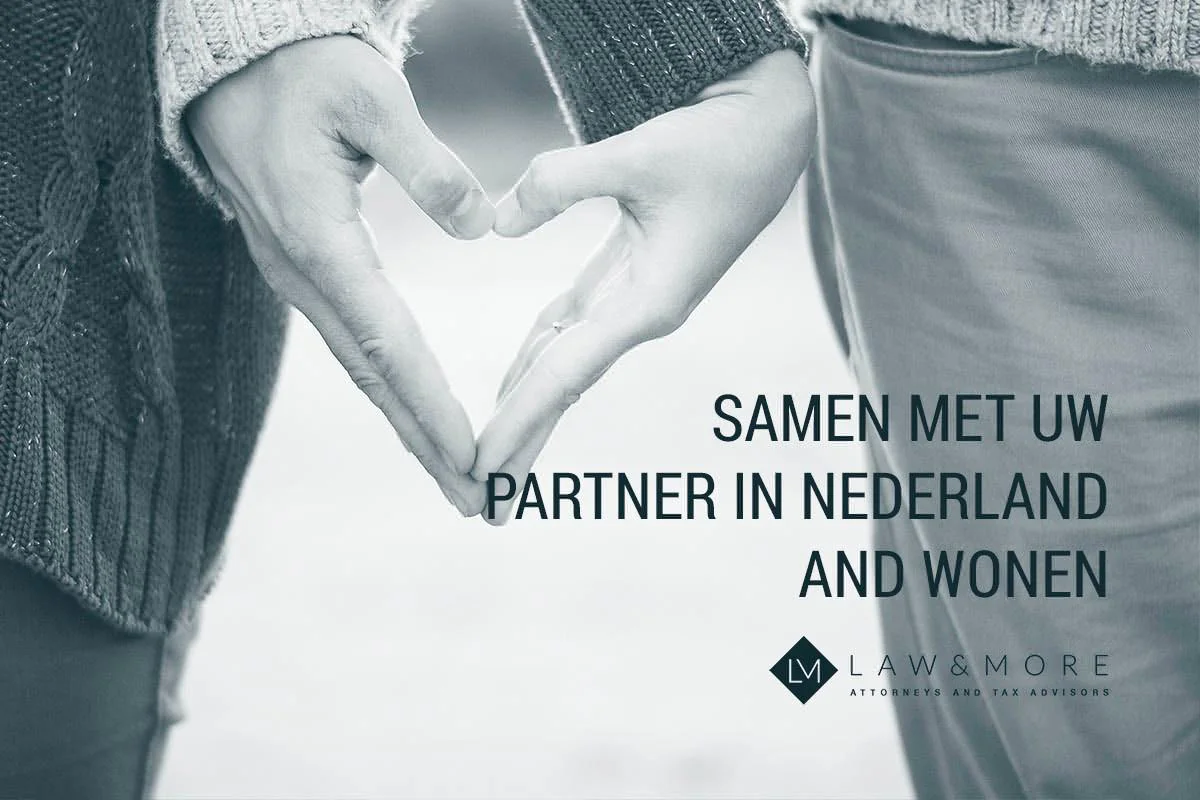 Enkele algemene voorwaarden
De eerste algemene voorwaarde is dat u beiden over een geldig paspoort beschikt. Ook zal u een antecedentenverklaring in moeten vullen. In deze verklaring geeft u onder meer aan dat u geen misdrijven heeft begaan in het verleden. In sommige gevallen zal u na aankomst in Nederland deel moeten nemen aan een medisch onderzoek voor tuberculose. Dit is afhankelijk van uw situatie. Daarnaast dient u beiden 21 jaar of ouder te zijn.
Enkele specifieke voorwaarden
Een van de specifiekere voorwaarden is dat uw partner voldoende inkomen dient te hebben dat zelfstandig en duurzaam is. Meestal moet het inkomen minimaal gelijk zijn aan het wettelijke minimumloon. Soms geldt een andere inkomenseis, dit is afhankelijk van uw situatie. Deze voorwaarde geldt niet als uw partner de AOW-leeftijd heeft bereikt, blijvend en volledig arbeidsongeschikt is of niet in staat is aan de plicht tot arbeidsinschakeling te voldoen.
Een andere belangrijke voorwaarde die de Nederlandse Immigratie & Naturalisatie Dienst stelt, is het behalen van het basisexamen inburgering buitenland. Alleen als u hiervoor wordt vrijgesteld, hoeft u het examen niet te doen. Wilt u weten of u vrijgesteld kunt worden voor het basisexamen inburgering, wat de kosten zijn van het examen en hoe u zich hiervoor kunt aanmelden? Neem dan contact met ons op.
Hoe ziet de aanvraagprocedure eruit?
Allereerst zullen alle benodigde documenten en gegevens verzameld, gelegaliseerd en eventueel vertaald moeten worden. Als alle benodigde documenten zijn verzameld, kan de aanvraag voor een verblijfsvergunning worden ingediend.
In veel gevallen is er een speciaal visum nodig om Nederland in te kunnen reizen voor een verblijf langer dan 90 dagen. Dit speciale visum heet een machtiging tot voorlopig verblijf (een mvv). Dit is een sticker die de Nederlandse vertegenwoordiging in het paspoort plakt. Het al dan niet nodig hebben van een mvv is afhankelijk van uw nationaliteit.
Indien u een mvv nodig heeft, zal er een aanvraag ingediend moeten worden voor een mvv en verblijfsvergunning ineen. Indien u geen mvv nodig heeft, kan er een aanvraag ingediend worden voor enkel een verblijfsvergunning.
Na het indienen van de aanvraag controleert de Immigratie- en Naturalisatiedienst of u en uw partner aan alle voorwaarden voldoen. Binnen een termijn van 90 dagen wordt er een beslissing genomen.
Contact
Heeft u vragen of opmerkingen naar aanleiding van dit artikel, voelt u zich dan vrij om contact op te nemen met mr. Maxim Hodak, advocaat bij Law & More via maxim.hodak@lawandmore.nl of mr. Tom Meevis, advocaat bij Law & More via tom.meevis@lawandmore.nl, of bel ons op +31 (0)40-3690680.